Have questions about your backer rewards? Here's a detailed FAQ that should clear things up!
---
I pre-ordered the game through Kickstarter/PayPal/Pre-Order but haven't received my Early Access key, where can I find it?
All Early Access game and reward codes were sent out on July 11th to the email used during your purchase. If you are having trouble finding it search for subject line "Your Islands of Nyne Early Access Keys Have Finally Arrived!" and it should pop up in your inbox.
---
I got my codes in my email. How do I redeem them so I can download the game and unlock my rewards?
Game Key
The first step is redeeming your game key. You must activate game keys before DLC keys. To activate Islands of Nyne on Steam:
Open Steam
Click Add a game on the lower left section of your Steam window
Click Activate a product on Steam
Input your game key included in the email
Start Downloading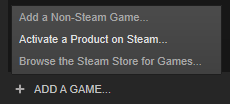 DLC Key (rewards)
To redeem your rewards, follow the same steps you took for redeeming your game key but this time enter in the DLC code that was included in the email. Once you have activated the code, you will need to LAUNCH THE GAME AND EXIT in order for your rewards to show up in your Steam inventory.
---
I redeemed both my game key plus my rewards key/s but my rewards are not showing up in my inventory.
If they still do not show up after following the steps above, try to verify the integrity of game files in Properties -> Local Files.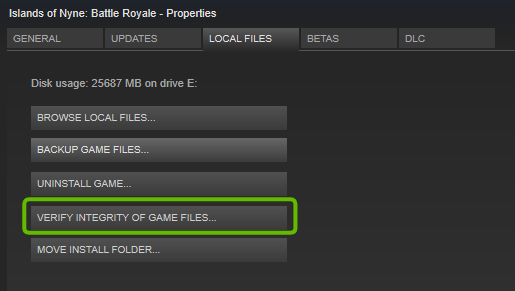 ---
I redeemed my rewards, but they aren't all there according to what I purchased during the Kickstarter/PayPal/Pre-Order campaign.
Some backer rewards need some final polish and aren't completely implemented yet. At the latest, they will most likely be honored at the release of Islands of Nyne 1.0. These rewards are:
In-game badges
Kickstarter Rare Armor Set
Kickstarter Taunt Animation
Kill Tracker Attachment
---
I redeemed my rewards, but they aren't the same things I purchased during the Kickstarter/PayPal/Pre-Order campaign.
Some rewards have changed from the time we released the Kickstarter and PayPal campaigns. Because of this, we did our best to provide rewards of equivalent value which were described in the email containing your keys. Here are the rewards that were changed and their updated equivalents of equal (or greater) value.
Crates
(Backer reward)RARE ARMOR CRATE = (Now is) ELITE ABDUCTED ARMOR/DROPSUIT CRATE
(Backer reward)RARE WEAPONS CRATE = (Now is) ELITE 1ST CONTACT WEAPONS CRATE
ELITE crates have all COMMON items removed and guarantee you an item that is UNCOMMON or above. These crates also have a higher chance of unlocking rarer items such as Rare, Epic, and Legendary skins. These versions are only available to you as an early backer and DO NOT require the purchase of a key to open them. To see their contents, check out the links below.
1st Contact Weapons Crate
Abducted Armor/Dropsuit Crate
In-game Credits
(Backer reward) Every 1000 In-Game Credits = (Now is) 2 Elite crates - One Elite Abducted Crate and one Elite 1st Contact Crate
This means that 2000 In-game credits would receive 4 Elite crates, 3000 would receive 6 Elite crates, and so on.
---
I redeemed my rewards, but there are extra weapon skins and crates that weren't in the Kickstarter or Paypal tier that I backed.
As a gesture to all of those who supported us from the beginning and want more than hipster cred, we've gifted the skins from the Gold Pre-Order bundle to your Steam accounts in addition to the rewards that came with your Kickstarter/PayPal Backer purchase. The skins in the Gold Bundle which you should have received are the following:
M9a1 | Blue Hyperion (Rare)
AK-47 | Blue Hyperion (Epic)
MK18 | Gold Echelon (Legendary)


We hope you enjoy the extra little bonus for being such an amazing community and supporting us so early on!
---
I purchased multiple Kickstarter/PayPal/Pre-Order bundles for myself but I can only redeem 1 of them. How can I get them all in my main Steam account?
Sadly, you cannot redeem the same DLC package more than once on Steam. That means if you bought a package that comes with 3 DLC keys for you and your friends, but decide you want to redeem all DLC keys on your main Steam account, you'll have to use separate accounts and trade them to your main account. This is a limitation on Steam's side and we apologize for the inconvenience. Please keep in mind that all backer rewards have been made TRADEABLE indefinitely, so you will be able to trade your rewards to and from steam accounts whenever you see fit.
---
My friend bought me this game but i haven't received my key
Your friend should have received an email containing your keys. If he did not, please have the original purchaser of the package reach out to [email protected]. We cannot grant rewards to anyone without the consent of the original purchaser.
---
None of the above helped me and I'm still missing my rewards! Who do I contact?
If you're still having trouble redeeming rewards, please contact our support team at [email protected] and they will sort you out. Please remember that in order to redeem your rewards they will need you to verify proof of purchase.